After a couple weeks, I went on a slow run with a friend Josiah, who was a roommate at the time. He was interested in running and going minimal as well but hadn't quite gone all the way. We went running through the local neighborhoods, talking along the way when low and behold we had run nearly 3 hours! I was so pumped that I could FINALLY go some distance! I just had to slow down it seemed! Let's see how I could overdo it again now, totally forgetting my attempt at being safe, steady and patient! A side note: Josiah took his shoes off for the last half mile that day and ran it bare all the way home. Damn, man! Well done!
The next week I would push a good two hour run, finding a local man made trail that not only had water fountains every few miles but also provided some shade from the sun in the thicker tree sections. It was fab. The main one's name is Indian Creek Trail.
Video Game Deja Vu
One day, I was running on the streets, and I passed a sign that said Oregon Trail. I thought that was pretty funny, it being the first and favorite PC video game I had ever played back in first grade. But then as I continued running, I wondered if it actually could be the real Oregon Trail, and it was! And not only that, it was the Santa Fe Trail, AND the California Trail, all combined into one. It seems they intersect right where I was running, right up the street from where I lived, and I never knew it. It was a cool feeling to be running on the trail that not only housed so many amazing expeditions and basically all pioneer travel to the west back in the day, but also that I was running on a trail that one of my favorite video games of all time featured! A very weird feeling indeed.
First Five Finger Half: WARNING: Gravel Ahead!
Now that I was able to run 2 hours, it was time for me to rejoin the races, VFF Bikila style. I had the ridiculously loud sky blue flavor, I needed to use them for something! The Lucky 13.1 was coming up and I wanted to play. When I got there, all uber excited about VFFing the race, a tall dude looked at me with a puzzled look and asked if I knew about this course. My answer was the usual no. I always liked the surprise. He readily explained that half the course was fresh gravel and wondered if I had any other shoes. Not considering gravel in my running so far, I thanked him for the warning and looked forward to the race with little concern. Until I got to the gravel, that is. The tall dude was right, it was about half the course. Lucky my ass, indeed!
The first few miles I ran fun like, taking it easy, passing many, doing what I could to make everyone crack a smile. Entering the gravel, forget about it. They all passed me. I could not dodge any rocks at all. Being fresh gravel, it was pretty bad. My feet were not ready for this. I winced in pain and ended up bruising my foot in between the two forefoot balls. During the second section of gravel, I literally stopped and walked. I had run in the tall grass during some of it, to get a rest, but most of the course had ditches at the side of the streets, either filled with water, or not being something one could run on or cross. And fences blocked my attempt to run the grass for most of the gravel sections. It flat out sucked. That kind of gravel sucks for shoes. But for VFF's, well, it sucks!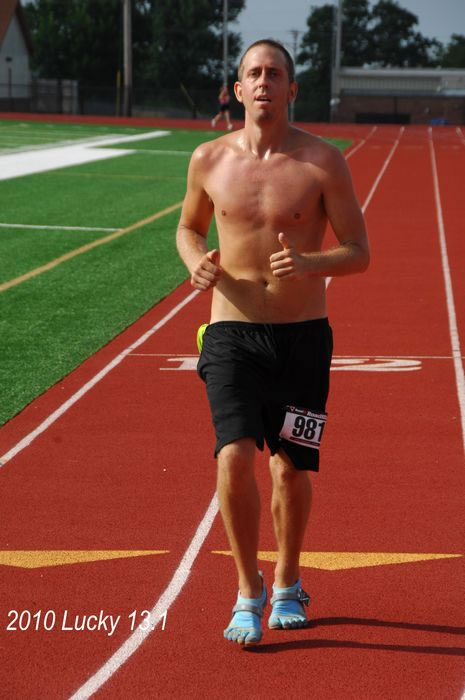 Near the end of the race I passed a speed demon that looked mighty upset. He was limping, and used to doing 5k's at a low 5 minute pace, being in late high school. He cramped today. I asked if I could help and gave him a bit of pep, requesting him come and join me. He took my advice and caught up to me after a half mile. We had some good chat action to end the race, learning about his track history and sharing my minimalist history. As we entered the track, I asked if he wanted to go hard at the end for kicks. Before I completed that sentence, he was out of sight towards the finish line. Them demons…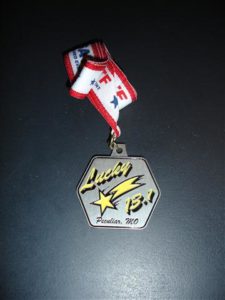 From Never Running To An Ultramarathon In A Year
Part 1: It All Started…
Part 2: Injuries!
Part 3: The Wall.
Part 4: The Marathon
Part 5: Putting On My New Feet
Part 6: The Alligator That Smiled At Me
Part 7: The Book That Plants
Part 8: First Barefoot Race
Part 9: Running Forever in the Park
Part 10: The Short Race Report
Part 11: Kansas City, Gonna Get My Baby Back Home
Part 12: The Return of the Long Lost Runs (no toilet humor please)
Part 13: Dorothy, We Are In Kansas Anymore
Part 14: Worn
Part 15: Valet = Achilles Tendinitis = No more running this year, well…
Part 16: Marathon Decisions: Screw It
Part 17: 9.5 Months After Losing Da Shoes: The Kansas City Marathon
Part 18: ULTRANESSSAUCISM:
Part Last