October 16th, 2010
The excitement was in the air. Chad and I got up uber early, hit some oatmeal with some whey protein added to it, based on a suggestion. Figured I could test that today. Why not? An hour later, we both hit some chia seeds with some honey and lime. Yummy. Off to the race!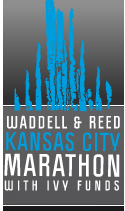 The temperature was in the mid 40's, probably the coldest morning so far this Autumn. The wind was really heavy, as well. All I knew was that it was supposed to warm up, so I only wore my race outfit. Chad did the same. We were COLD. And I really had to go pee.
Standing in line forever, the Johnny on the Spot lines, watching everyone looking around at each other, fidgeting in nervousness, trying to be cool, the cyborgs hooking up their machines, the over talking to ease the tension; we were all in this together. Chad was like a kid in a candy store; he looked so happy to do this. We finally each got a stall. It's weight loss time!
And the 5 minutes until race announcement time.
First Five Fingers Marathon: It Has Begun!
Needing a light warmup, we jogged the next couple blocks to take our places just in time. I had told him about the pacers, and how it is important to not follow others faster paces, especially at the beginning. I explained that we would see all sorts of people huffing and puffing after a single mile because they will jump the gun, and how I would run with him for a while and then branch off, leaving him at the mercy of himself, since it was his first race and I felt he shouldn't be ushered. Suddenly the race started without a sound. We were off!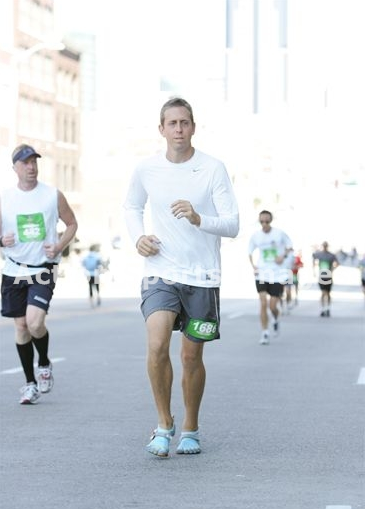 Taking it easy…
There were bands playing, and people huffing and puffing within the first mile, having passed us early and now already, being passed by us. I was yelling things out, like WOOOOOOOOOOOOOOOO!, and things of the sort. Chad was determined, readying for the challenge ahead he was not prepared for. We had a slow incline to begin, which I happened to have run a couple months prior at the Race for the Cure 5k, which I didn't mention in this blog thus far due to it's relevance to a speed writeup AFTER this series. The course turned almost the same as that one and headed in a long downhill, only to give all of us a huge steep up hill, the most challenging of the course in my eyes. Before this, Chad and I were chattin' and having a blast. We saw a couple others in the Vibrams as well, always a welcoming sign. But it was time to part and I knew it. I wanted to go a steady course on this one and although there would be other times to run together, it was time for me to go faster. I said adios and took off, well before the first steep hill. I wondered if he would walk this bad boy as I was small stepping the beast.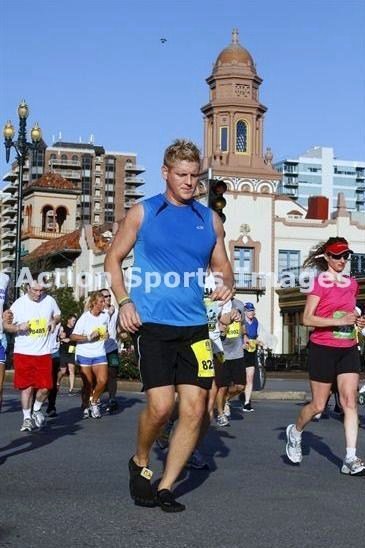 Cowbell and Singing
The rest of the marathon was nice. I had some good chats with a fellow KSO wearing gal, up until the half marathon split off, as well as with some older gentlemen that have run forever. One, I might add, I would be running with for a bit by chance in the race following this one. Most conversations were about my VFF Bikila's, as the curiosity of running minimalist is always high in others. I usually focus on how my injuries and pain stopped cold turkey when I switched, sans my overdoing it and growing pains. Later in the race I was frequently getting comments on how tired I DIDN'T look and why. With me replying that it was because I was having fun but could use more COWBELL! I said this often because alot of people were waiving cow bells at every corner. I found it funny, and so did they. If you don't know why, look it up. It's from an infamous SNL skit with Chistopher Walkins (ok fine http://www.gofastvideo.com/video/876/Christopher-Walken-More-Cowbell–Classic-SNL). I also happened to hear Enrique Iglesias's "I Like It" on some loud speakers, and that kicked off my singing of that song for god knows how long. At least parts.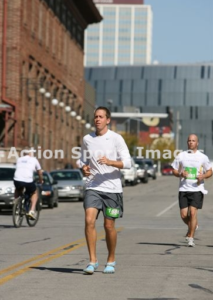 40 to 80
It had been 8.5 months ago that I had run the Miami Marathon, my first, in running shoes. Today, I was running the KC  Marathon without a problem, my second, in barefoot minimalist shoes. With no training, if you could call that no training. There was a small problem though. The temperature had risen from 40 to 80 degrees and I had not had much water or Gatorade. I actually felt a bit under watered for the first time, at least I thought I was. And one of my hamstrings felt like it was about to cramp. In all of my running, I had yet to have a cramp. To be sure, I decided to walk a bit and chug alot of waters at the next aid station. My achilles' felt fine, my body felt pretty good, I felt pretty good, the guy I just passed was barfing water and sitting on the curb, probably not feeling good, ambulance please, it was near the home stretch. Let's run home!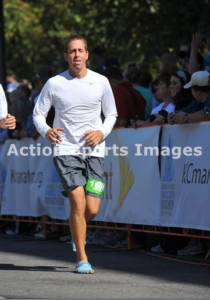 Smiling Together
As I came to the finish line, there was a guy coming up on my tail, he was going faster than I was. He looked at me and gave me a challenge smile, so I took off with him. In a few seconds I was well in front of him but figured it would be nicer and more fun to get a smiling tie across the finish line, so I slowed down, amazed at my energy at this point. Nothing like another seed to be planted in that damn head for future consideration.