Back in April, right before the start of my first 100k at the Free State Trail 100k, I was sitting on the ground tying my Luna Sandal Leadville's, and a dude walks up to me and asks how they were working out for me. I replied I was pretty new to them, at least for trails, but they seemed to suffice and cover my gripes with other minimalist foot gear. As I continued the chat with this guy, his name being Joe Prusaitis, I found out is not only the race director of the Rocky Raccoon 100 and many others, but also a highly experienced ultra runner himself, running as crazy as the infamously difficult Badwater Ultramarathon. He was really nice, giving me pointers and what not. Flash forward to my decision to run a 100 miler, and meeting him that day guided me to this race. That and I FLUV the Beatles.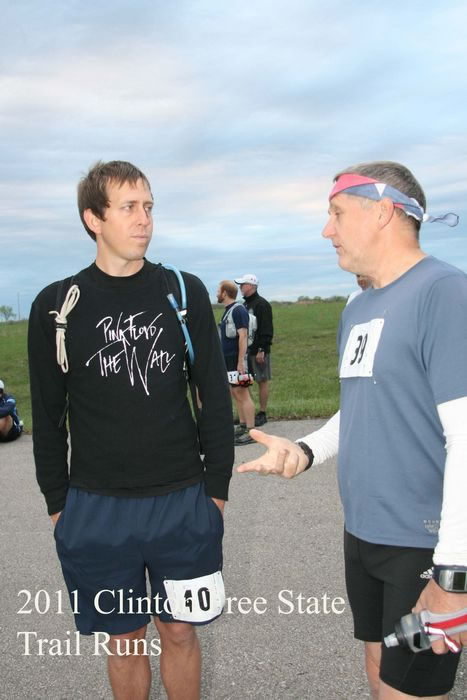 Comparison Intro
I will be contrasting the 2011 Free State Trail 100k to the 2012 Rocky Raccoon 100 miler as they are the 2 races I have done over 50 miles. Both were quite different than one another and to me prove to be a natural counter point and interconnected. My own personal journey has changed quite a bit since last April, especially pertaining to running. Back then I was just beginning my use of the Luna Sandal more and more, learning effective tyings and the differences in laces and attempting to form preferences. I also was running alot more, with a consistent amount weekly as well as a hell of alot of races. I ran 3 races in April 2011, 2 being Ultra's, and the other being a marathon. I was getting into my only fruit eating groove and figuring methods to speed up and start work on speed training, which I never got around to. Since that time, I have run less and less, focusing more on school and my mind. I have completed a half and full marathon barefoot, run alot of trails, almost more than streets, and have almost completely stopped using a Garmin, instead focusing on the moment, my form, and the feeling. In fact, at this point I barely even run outside my job and the few races I have done. Part of this was school caused, but also since I was feeling so good I was curious about how little I could do to complete a 100 miler, which brings us here. You can read the results of that in Part 2. My form is better now then ever, being more compact and lighter. So much I feel like I am gliding half the time.
The Start
– Free State: I was nervous due to my unsureness on trails, footwear, and food. I had no idea if the sandals would work. I was still trying things out in races, instead of in training. I planned well for the sandals. I was trying out the hemp lacing that day because I felt they worked best when wet if there was mud. I ended up having major problems with them not being tight enough or too tight. In the first 10 miles I had stopped to tie them enough to be left in the back of the pack and frustrated, which is rare for me. I threw on my trusty KSO Treks at the drop bag area for the remainder of the 60+ miler. The race was chilly so I wore a long sleeve shirt I took off within a mile. I also started with a small backpack and bladder with extra sandal laces just in case. Funny enough, I had not tried it out prior to that day, therefore not knowing how to get the water bladder to not make alot of noise and fit right. Therefore, it was loud and loose. It went at the first drop bag station as well!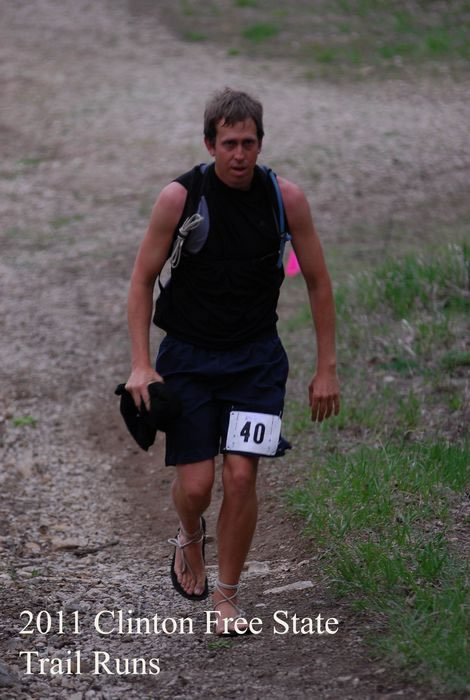 – Rocky Racoon: I started an hour early. I go there right at time, so I asap said by to my buddy Valerie and took off. Did I mention there was a pouring thunderstorm present? Oh yeah! 5am super storm. Running with a headlamp made it look like we were going through hyper space in slow mo. It was 60 ish degrees and was very fun for me. The thunderstorm uber pour became a steady rain for the next 6 hours or so. I dropped the shirt and poncho at the drop bag location. I didn't need clothes.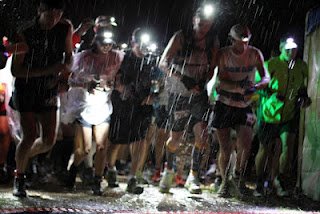 Terrain
– Free State: The three 20 mile loops had all sorts of terrain, from smooth dirt to technical. Not too many hills overall, there is a part of the course that is entirely rock next to the lake. It is pretty neat, but not easy. Roots and alot of rocks presented a very challenging terrain where many fell and fell alot. No mud though, even though it sprinkled a tad.
– Rocky Raccoon: The five 20 mile loops had roots city. You would stub your foot if you were not careful. The course seemed very fast overall, with minor hills, none really needing to be walked. Due to the rain, there were some pretty obnoxious mud areas. While mud isn't usually a big deal, the ground had alot of sand on it. While this presented minimal annoyance to me due to my wearing of the Luna Sandals ATS with nonslick surface (discontinued), I would assume shoe runners had sand in their shoes. I did keep getting a sand buildup under both my big toes, probably caused by the non slick surface of the sandals, and I would water my feet way too often to remove this. It caused no blisters, but felt like it was causing that all race long. A major annoyance after so many hours. Overall it was a smooth course that was mainly flat.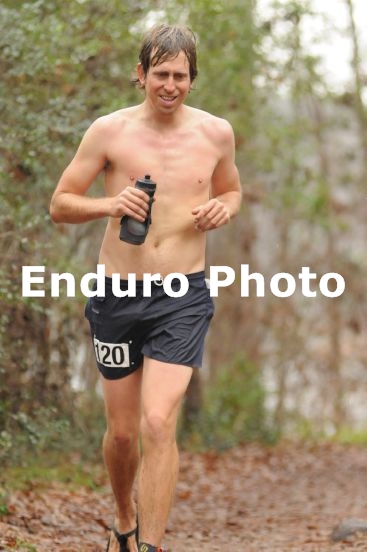 Food Notes: At both races I ate almost entirely fruit, with the occasional fun junk, and NO SALT TABS. I chia seeded at the beginning of each loop, and drank water only when thirsty. I drank sports drinks occasionally at Free State. For more specifics on my original study, see Part 2.
Cliffnotes of the Journeys
– Free State: The race went pretty smooth for me, it being once of the few times I had ever run on trails. I was loving it. I ran with a few people eventually, since it was 3 loops, and one in particular, a girl that was my pace for about 30 miles, and she was nice. It was also the first race I had to pay attention to the clock. This caused some anxiety. Due to my slow start, stopping and tying my sandals alot since I was a dumbass about that, I was behind on cutoff times, the first race I had ever had to face them. It did motivate me to go harder for a while, but I was not running as light as I could, and I paid for it later on. I barely missed one of the cutoffs by 5 minutes and hated that feeling the entire race. The anxiety of making it on time, etc.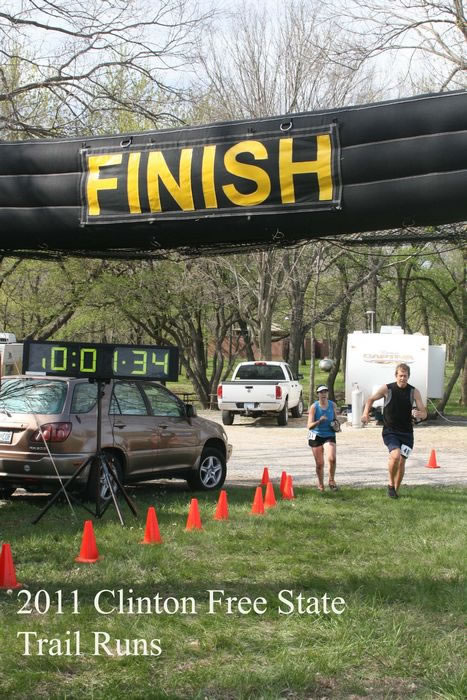 The girl eventually went ahead, running with her friend whom came to pace her in the end of the race. I was walking alot near the end, especially when nighttime came. It was the first time I had run with a headlamp on, and on a trail at night. Was very interesting. I heard all sorts of creatures, and alot of coyotes. A big pleasant surprise was that I got a pacer at the end, kind of. His name is Danny, and he was picking up the signs and markers on the course, since I was last. He is also a guy I knew, having met him on my first ultra and 50 miler, which was the Blue Springs 50 50 (see Ultranesssaucism). I had since seen him at all ultras I had run, so this was tradition! It was nice to catch up with him, at the end of things. But being last also created that feeling I had in my first ultra, I didn't like feeling like I was keeping the race directors waiting. That feeling didn't help that I was pretty beat on the last leg, walking alot. I'd say I walked nearly 15 miles total that day/night. It actually caused my only race related injury later I've had (up til writing this: 2.18.12).
– Rocky: The race was a dream in its entirety. I started a tad fast, but it was pouring and raining and I felt great. I would stop and visit at food stations, and do my usual squat stretch I do. Besides that, I ran non stop up to 60 miles. I felt as good, if not better at mile 80, then the entire race previously. Having focused on a faster cadence, I couldn't have asked for more of an at ease race. At mile 60, it was time to put on the glow sticks for fun and collect a running partner and friend Valerie, whom came with me for support from Miami and proved to be endlessly useful, especially after the race. She was just coming off her first marathon the previous Sunday, so I had her run the first 7 miles of the loop with me, leaving her at the tent so I could try something out on the next 6, which meant me booking it since it seemed I had the energy. When I returned to get her, it had gotten colder out, and a nice older gentleman volunteer named John, I think, offered me one of his extra shirts. This would prove vital for the temperature drop that was happening. While I am used to the cold, my body was acting differently at this point of the race, and I was cold. It probably was due to a little thing called walking.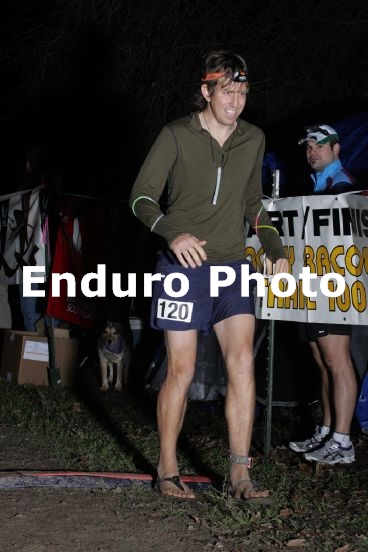 Valerie and I were forced to walk because I was a dumbass and forgot my batteries at home base, as my headlamp went dim, which meant she lead. That was, until hers ran out of batteries as well. It was nice to walk and talk though, even if it was for 7 miles. It was nice to run with her also, as I have received crap from her and other friends about how I don't run with them in races. Well, there. She has come such a long way in running, it was totally awesome to run with such a friend that night.  Did I mention how awesome glow sticks are? I had them on all over! One of these days, I'm going to figure a Tron outfit for one of these… As we finished the leg, I was cold but I was also full of energy city. I felt like I was about to go crazy. I got some batteries and took off. What happened then was amazing and stupid all in one.
To put it simply, I took off and ran the next 13 miles faster than I had run the entire day. It was also about as fast as my fastest half marathon on trails, without 80 miles having been run before, er or 73 (with the low light walking incident). While this was an awesome feeling, it destroyed me after. I used all of my energy, and the time of the race was catching up with me. I was 'I need sleep' tired. But I only had 7 miles left.
On retrospect, I may have been hit by some wall action during this, I don't know. I honestly have no idea how the last 7 miles took me near 4 hours. I caught myself sleep walking a couple times. I went into a deep meditation alot of it, only to be snapped out of that when people would walk by, with me wondering how they could walk so fast! All I know is I was damn glad that man gave me the long sleeve shirt, because I was pretty cold. It had a turtle on it from a race he had done in early 2000's. So awesome! I did take some caffeine from the last rest station and managed to get a jolt for about half a mile until it wore off and returned me to falling asleep. My body felt great though, and I didn't care about time so I walked til near the end, making some phone calls I thought would be fun, telling whomever I was on mile 97 or whatever, and just enjoying the uber slow hike.
The Finish
– Free State: When I know I am near the end of a race, I always get some crazy energy and take off. This was no exception. I took off and the 2 race directors, Ben Holmes, and Sophia Wharton, whom I knew at this point from other races, both ran to me and hugged me. It was one of those nice moments you can never forget. That and how Sophia gave me all of their left over fruit, which was like 3 days worth! And by 3 days worth, I mean 3 days worth for how I eat, which is 9 MEALS. They gave me the belt buckle; first 100k done. I was slow mo exhausted. I drove to my brothers house up the street and crashed. It was Easter!!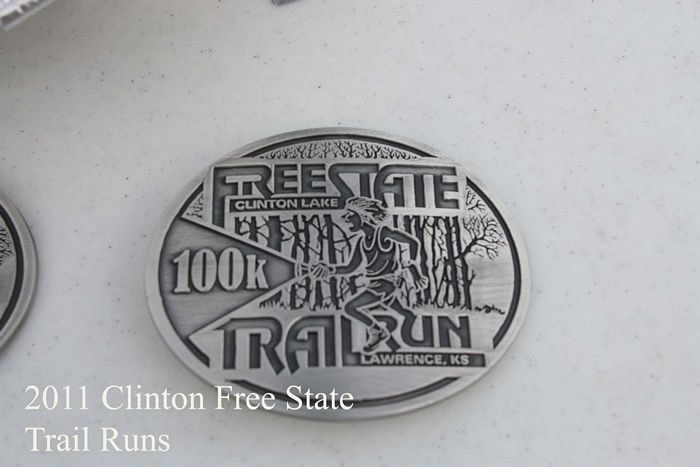 – Rocky: Following all of my calls, I knew the end was approaching. I knew where I was and although I was spent I felt awesome and started to lightly run. When I saw the beginning of the end, which was signaled by a guy with a big ass smile on his face, waiting for someone, anyone perhaps, I yelled Rick Flair style, like always, WOOOOOOOOOOO!!! And like any proper train, it continued up until I finished! My second wind had come and the only disappointment was that I could go no further!
The tent of the Trail Nerds from Kansas City was just before the finish line, featuring many race friends that were there the entire race, the end being no exception. Some ran, others came for support. Truly an amazing group including Sophia again, Ashley, Emily, Erica, Wael, Heather, Brian, Matty, and my man Luke!
Pictures: Free State: We all got free pictures due to Dick Ross' SeeKCRun website. He goes to races, takes professional pictures, and posts them for free! You cannot beat this service. Thanks Dick.
Volunteers: I cannot say enough of these people. What a crowd in both races. I was literally waited on hand and foot. And everyone else was as well, all the way down to blister popping. Truly amazing selflessness these races have!
Recovery
– Free State: I walked in slow motion the next day and was tender everywhere except my feet. Day 2 was light soreness and I was, as far as I know, fully recovered in 4 days, which was nice although I did acquire a slight injury. Behind my left knee hurt. The backside. It didn't hurt when I would run but when I would walk. It was tender for a couple weeks at least. I felt it during the race after walking fast for nearly 10 miles. I had been warned to practice walking fast, and this was the result as far as I was concerned.
– Rocky Raccoon: As mentioned in Part 2: Results, I was not sore the next day. The only thing that I noticed was when I went into a deep stretch of my quads, I had to do it slowly due to them feeling like they would be hurt if I went to fast. Whatever that means. I did suffer from amazing swollen feet about 8 hours after the race on, however. BUT it was because I went to a Chinese buffet. And whilst there, I managed to down 7 plates of high sodium food. Now understand, any one of those plates on a given day could swell my feet up due to how I typically eat (all fruit). So take that, multiply it by 7, and you can see WHAT A DUMBASS I CAN BE! And I suffered from it. Yes, you heard it correctly: the only problem I had in my first 100 mile race I did no training for was swollen feet due to Chinese buffet, way after the race.  And I had the usual post race spasms. Nonetheless, I was fine on day 3, and regarding full recovery, whatever that means, well, I felt fine after the race so I was really fine after I slept by day 2.
So…
I ran the Free State Trail 100k with a more proper training, and I ran the Rocky Raccoon 100m without training at all. I was physically very tired at the end of the 100k but not in the 100m. In both races I had speedy recoveries, although a much faster one for the 100m. My mind was much more at peace in the 100 miler, even with much more to lose due to my possible stubbornness and expense. It's amazing how different one race can be from the next. It's amazing how different one person can be in less than a year. Both these races were major learning experiences and an amazingly awesome time! Just thinking of them makes me want to get back out there asap. All in good time!
Full Circle
When I had just crossed the finish line, the race director, Joe Prusaitis, whom I had mentioned in the beginning of this writing, whom motivated me to run the Rocky Raccoon 100 in the first place, was there. He remembered me from Free State from the sandals. He handed me the finishers buckle, we talked, and I thanked him for such an awesome event and crew. Nice guy. It was nice to chat with him at the end of this, when he was there from the beginning, the very beginning.
I Believe…I Can Run A 100 Mile Race Without Training

Part 3: Race Report(s)